We get your business on the front page of Google
Guaranteed!!!
What's all the hype about getting on the FRONT PAGE OF GOOGLE ?
Basically, it's to give your business the best possible chance of reaching your target market, which means driving ever-increasing amounts of traffic directly to your business.
And given the limited number of places on the page, it also explains why there's so much competition to get up there – and why everyone's hassling you about contracting with them to get you there.
But to be effective and to GROW your business, there's some things you should know …
Mobile Consumers are Always Connected
Just having a website is not enough!
And a "set & forget" approach to marketing just won't work!!
"Many business owners have the misconception that simply having a website will be enough to make the customers roll in. WRONG!!! They don't just magically find you – you need to advertise so customers flock to you – and Google Adwords is the best way to do this!"
To ensure maximum results from your online efforts, you need to make sure you have lots of the right kinds of people visiting your website and when they get there, that you are giving them the information they need to do business with you – and of course, you need to keep your overheads as low as possible.
No other means currently exists online that produces a more "exact" customer match for your business product or services than a specially tailored and specifically targeted advertisement that sits proudly on the first page of Google where thousands of people are searching just for you – Google Adwords can make your web traffic sky-rocket.
Here's what Google can do for you
*** Attract more of the right kinds of customers using Google Advertising
Whether you're looking to bring in new website visitors, grow online sales, get the phones ringing or keep customers coming back for more, Google Adwords can help.
*** Reach the right people at the right time
You'll be seen by the right type of customers at the very moment that they're searching on Google for the very things you offer – and you only pay when they click through to your website, or give you a call.
*** Pay only for results
Unlike traditional advertising where you pay whether people see your ad or not, with Google Adwords "Pay-Per-Click" advertising you only pay when someone actually clicks on your ad to visit your website or calls you – and not just when it is displayed. In other words, when your advertising is working.
This is why Google Adwords are globally renowned as being the BEST form of "targeted" online advertising.
*** Advertise locally, nationally or globally
Set your Google Advertising to target certain countries, regions or cities – or even within a set distance from your business or shop.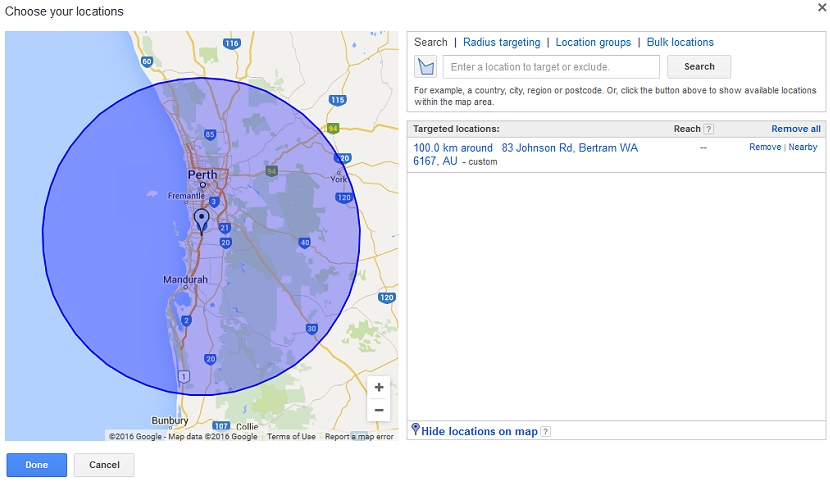 *** Save money and only show your Google Ads when your business is open
We can tailor your advertising to show up only when you are open for business.
As an example, 8am – 5pm Monday to Friday – that way you don't waste your advertising budget on unnecessary clicks.
We even have clients who turn their ads off when they want to go away for a holiday or a long weekend getaway.
Some of our clients also choose to turn their advertising off at times to manage their work flow because there's so much coming in.
*** Reach your customers no matter what device they are on
In today's mobile world, you need to be advertising on every device that your customers are using – desktop, laptop, tablet and mobile. That way, when they're searching, browsing or buying, you're right there with what they need.
We check to see that you have the correct mobile strategies in place to suit your advertising campaign.
*** Advertise on Google with any budget
How much you invest in Google Adwords is up to you – Just begin with a daily budget that you're comfortable with (which can be adjusted later if you wish), but many businesses find they get off to a good start with a budget of just $10 per day. Of course, the amount you choose to invest is totally up to you, but you can rest assured that there is no minimum monthly spend.
*** Google Adwords is the best online advertising solution to promote your business.
Not only will your business name be "out there", you will find that this is the most economically viable and most effective form of marketing today.
However …… Beware!!!
While Google Adwords can increase your sales for a relatively small investment, unless you really know what you are doing you can find this strategy to be INEFFECTIVE, COSTLY and A BIG DRAIN ON YOUR FINANCES.
It may seem simple, and many people promise big outcomes, but EFFECTIVE Pay-Per-Click Advertising requires an incredibly balanced strategy, and without EXPERIENCE in this area, it's very difficult to get it right.
Sure, many companies can do PPC as it is affectionately known, but you really have to ask yourself "Can they get it right?"
Every time someone clicks on one of your advertisements, it costs you – so you want to make sure that every person clicking through to your website is a potential customer and not just a tyre kicker – At the end of the day, it's YOUR money they're spending!!
Our Speciality with Google Adwords is to get you the RIGHT customers, not just Web Surfers
How do we actually help you and your business ?
We assess your business and tailor a strategy so that you are only spending money on the most effective advertising that brings in the best type of customers – ones that buy!
In consultation with you we will establish your monthly Google advertising budget, which will finance your Google Adwords Campaigns.
* We GUARANTEE that your Adwords advertising not only appears on the front page of Google whenever someone does a search for your product or service, but that it doesn't cost you the earth in the process!!
* We set up and look after the Google Adwords Account for your business – that's our prime purpose.
* We design and build a campaign that helps you get the most out of Google, and since we've done a lot of the research and testing behind many categories of business, we can often get started straight away.
* We then tweak and optimise your ads to get maximum return.
How much will it cost me ?
There are 3 parts to this, and there are no hidden costs.
1. There is a once off set-up fee paid to us, which covers all aspects of our investigation and setup of your Google Adwords Account.
2. Your Google Pay-Per-Click advertising budget is paid monthly, directly to Google, and we DO NOT get a percentage of this.
Your whole marketing budget goes directly to MARKETING YOUR WEBSITE!
You need to be careful here as many companies get a percentage of your Cost Per Click …
3. Then our great ongoing services are offered for a more-than-reasonable set monthly fee – No strings attached, no long contracts.
And we're sure you'll be surprised at the affordability of the whole program!!
Our set monthly fee covers our full management and ongoing optimisation of your campaigns to ensure your advertising is in the best position on the front page of Google every month, as well as detailed monthly reporting.
Obviously, for larger account spends per month there would be more work involved in maintaining the account on our end, which would therefore increase our set monthly fee, but in our experience this would be much further down the track, and would certainly be openly discussed with you should that time arrive.
This is what you can expect
* DIRECT & EXACT match search results for your offer
* The ability to start generating traffic immediately (less than 15 minutes generally)
* The ability to start generating a Mailing List database immediately – a potential customer list of email addresses and names that you could market to directly – this is often considered the GOLD of the business
* The ability to start generating customers and clients immediately
* The ability to finely tune your marketing efforts by compiling real-time information – with Pay-Per-Click advertising you can test in a real-time environment so that you can improve your results
Why work with us ?
We specialise in Google Adwords Advertising for Maximum Results for you!
We have been managing Google Adwords Accounts for clients since 2008. Because of this we know what works, what doesn't work, and what will get you the best results and best value possible.
And while not all businesses are suitable for Pay-Per-Click Google Adwords advertising, we have many very happy and profitable Adwords and Non-Adwords clients alike.
We offer personalised online marketing advice
Drawing from a vast background of online and offline marketing, we can tailor a marketing solution for your business that gets best value for your marketing dollar.
We get you to stand out from the crowd – in a good way!
There are a limited number of spaces on the front page of Google, which is why it is so competitive to be on there, so to provide EXACTLY what your prospect wants, and to then hold prime position for your industry to give them what they want, means that you have the best opportunity to be seen and heard amongst all the noise in the marketplace – which can only mean good results for you if done right!
Proven Results
We have a proven track record of transforming marketing results for clients in a diverse number of industries since 2008, providing GUARANTEED and continuing outstanding Returns On Investment
Your monthly Google spend goes DIRECTLY to advertising your business
Unlike many other search engine marketing companies, we do not pocket a percentage of your Pay-Per-Click spend. This means that you will always know how much your campaign will cost you, making it easier to budget for your marketing.
Our set fee also means you can trust us to only recommend the necessary Pay-Per-Click spend for your business as we are not profiting from your advertising campaign.
BEWARE: While they will not openly admit this to you, many companies want you to spend more on advertising so they make more money off you other than their set monthly fee. Some even go so far as to charge a percentage without you even knowing!!
Full Featured Service
We deliver value – from assessing your business's individual needs, to helping you establish a realistic advertising spend, to campaign set up, conversion tracking, ongoing campaign maintenance, landing page optimisation and detailed monthly reporting.
If required, we also offer web development services from designing and building brand new websites, general maintenance and touchups of existing websites, and complete overhauls and rebuilds depending on your needs – all of this work is done in-house for more-than-reasonable fees, and is not distributed overseas for quality assurance purposes.
Great Flexibility
We can pause or end your campaign at any time without extra charge, and adjust according to your needs.
Easy-to-read detailed monthly report
We produce a simple yet comprehensive report that tracks your monthly ad performance. Based on Google's sophisticated reporting system, you get clear details and graphs so that you can see exactly what your account is doing.
Simple Payment Options
Pay your Google Adwords Account monthly using a regular debit or credit card.
No Lock-In Contracts – Cancel at any time!!
Because we understand that life changes, we also understand that our clients need flexibility and control. For this reason we are proud to offer our "No strings attached, no long contracts" agreement.
If for any reason you don't see value from our service, and while we will be sad to see you go, you are free to leave us at any time – just tell us what's going on for you and we'll try to help you sort it out and if necessary, permanently end your campaign – it's as easy as that!
Proudly Australian Owned and Operated
Located in Broadbeach on the Gold Coast, we are english-speaking Aussies that do all the work in-house, and communicate with you in plain terms for greater understanding and peace of mind.
Unhappy with your current Google Adwords Account Manager?
If you are :
* unhappy with the service and results provided by your current account manager,
* receiving bad personal service,
* paying too much for your marketing,
* not getting the results you think you should be getting for the money you are spending,
Then you really owe it to yourself to contact us if you would REALLY like to maximize your efforts and at the same time significantly reduce your costs …
Contact us now to start driving customers to your business website
The fastest way to get started is to contact us via our "contact page" or phone us on 0417 660 513
We'll review what you've already done and provide actionable ideas to increase the profitability of your business.
There is NO OBLIGATION and it's a great chance for you to get a fresh perspective on your business without commitment or risk.
If you like what you hear and agree with out approach then we can get started straight away.